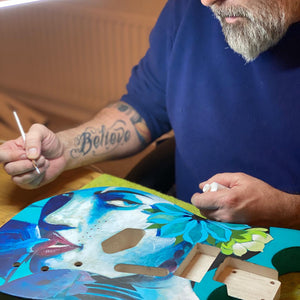 Bradley x Kithara x Windmill Guitars - A collaboration for men's mental health
At the end of 2020, in the midst of lockdown number four (or was it five?) we decided to undertake a collaborate project with some of our artistic friends here in Northern Ireland. We're fortunate to work with some great custom guitar brands at Windmill Guitars - none more so than Chris Moffitt aka Kithara Guitars, who having already partnered with us throughout 2020 was also keen to get involved in a celebration of local artisan products.
The link to bring this project to life was internationally renowned artist Terry Bradley, whos gallery is just a few doors up from our own showroom on High Street here in Bangor. Terry's art ranges from original canvas paintings to limited edition prints, furniture, apparel and even motorcycles … but yet he'd never painted a guitar!
Following some meetings earlier this year, we decided that we would create a one-off Kithara Harland - hand painted by Terry to be raffled off to raise funds for men's mental health - a cause which is very close to all of our hearts.
Over the coming week we'll be showcasing the creation of this one off guitar - and telling you a little more about the story behind why Chris, Terry and I decided to raise funds for men's mental health.
Stay tuned also to find out how you can get the chance to own this fabulous guitar!
Simon @ WG
Click the photo below to see the latest progress
---