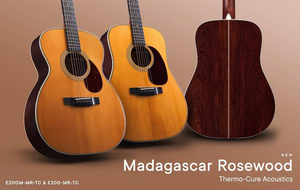 Eastman Guitars launch new models for 2022
Eastman Guitars have been a backbone for our guitar offering at Windmill Guitars since we opened two years ago. Offering incredible value for money, and impeccable build quality, Eastmans range of guitars have won many awards in recent years - including Guitar Magazine "Gear of The Year" in 2021.
2022 will see the brand offer a number of new colourways in their electric guitar range - as well as a number of new models which will be released throughout the coming months.
Leading this release are four new models - the John Pisano 30th Anniversary AR480-CE-SB, MD605-GB Octave Mandolin and two new Adirondack thermo cured models featuring Madagascan Rosewood back and sides. 
These models are expected in summer 2022 - with pre orders now open with us at Windmill Guitars.
---