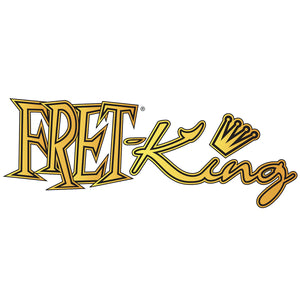 WG welcomes the 2023 Fret King range
We're delighted to announce that Windmill Guitars will carry the 2023 range from Fret King Guitars. With a select range held at our showroom in Bangor City, Co. Down, we will also be working in partnership with Fret King to offer the entire range of 2023 models - despatched directly to you fully setup and ready to rock!
Since 1993, and the establishment of Fret-King® in California, the company have been listening to guitarists of all stripes, from the internationally renowned and famous, to the 'journeymen' players, to the local heroes, as well as to the design community, the press and competitors, incorporating real-world experience and needs into innovative, elegant, player focussed designs which fall instantly to hand, and are endowed with eminently useable features, superb playability, expanded tonal palettes with a signature edge, bringing a fresh twist to the electric guitar and bass world, through a philosophy and identity which is uniquely Fret-King.

There are long established benchmarks; build materials, pickups, components and electronics, image, style, familiarity, feel, playability, tone, and performance, which all 'bracket' the parameters of the possible. For us, creating our unique Fret-King instruments is akin to creating great cuisine from great ingredients with our unique recipes, skill, and knowledge. 

Probably, there is no 'ideal guitar', but since Trev Wilkinson created the very first Fret-King guitars, after what was already half a lifetime of playing, tinkering, repairing, designing, prototyping and building guitars, thoughtful innovative guitar hardware and spectacularly authentic pickups, "doing it for the guitar player" as Trev would put it, the Fret-King ethic was then and has always remained "radical/sensible/useable",  with the purpose of designing versatile working tools, with recognisable classic attributes, premium materials and components, familiar and comfortable feel, outstanding playability and eminently useable features which provide the kind of exceptionally broad tonal palette that enables every Fret-King model to carry off a huge range of tones and musical styles.

That philosophy and tradition endures today, and we retain a refreshingly progressive view of how to incorporate real high-end custom shop features, the benefits they bring, and the advantages players get from them, with instruments designed from the ground up to be professional working tools.

Just as we are here at Fret-King, guitar players by their very nature are emblematic of self-expression and independence. It's often said that the heart, soul, and art of a player shines through the instruments they play. Fret-King guitars are a transparent lens, supporting all that freedom and energy, channelling it, and providing a solid platform to enable players to achieve the outer edges of their personal creative endeavours.

The Fret-King 2023 Collection brings together five or more decades of skill and experience in understanding what works and translates emotion into instruments which speak with your voice.

Eclat™ has the peerless, classic good looks of the fixed neck single cut and adds a twist with enhanced ergonomics and a sophisticated, performance focussed tonal palette. The Eclat is truly many guitars rolled in to one.

Eclat Standard is loaded with Fret-King's unique Soapstack™ stacked soap bar style pickups. 

Eclat Custom features our Focusfield™ mini double coil pickups, and the Fret-King signature 'comfort-cut'.

Country Squire™ is a Fret-King stalwart, a magical fusion of the traditional with the contemporary, featuring subtle dynamic and ergonomic enhancements across several distinct and unique variants. Rooted in the familiar, whist offering freedom to be free of retro constraints and burst free into a new creativity, the 2023 Country Squire collection includes a slew of different variants, the Classic, Modern Classic, Semitone De Luxe™, Music Row™, Stealth and Tone Meister™.

Elise™ Custom is latest iteration of what is now a long line of Elise variants, featuring the signature Fret-King offset, chambered, semi acoustic body style and nodding to a guitar heritage which spans all musical styles.

Available in this collection in hardtail and vibrato models, the Elise Custom has a breath-taking tonal palette which allows it to deliver a truly outstanding range of tone.

Corona, available in two versions, Classic and Custom, recognises the roots of the bolt-neck double cut, as re-interpreted by Fret-King, incorporates masterbuilt qualities, classic and contemporary style, feel and tone, and, of course, that Wilkinson trademark, a vibrato with unrivalled return to pitch whether you play with maximum attitude, in the shadows or on the watchtower.

Classic, as it suggests is a quite traditional HSS bolt-neck double cut, with the added advantage of Fret-King's unique 'Varicoil™'.

Custom is an assertive beast, with a contemporary style body, with tight edge radiuses makes a strong style statement, with a unique pickup, control and switching arrangement which produces an almost limitless range of amazingly useable voices and subtly extended cutaway and heel joint providing enhanced upper fret access while maintaining the Corona Custom's purity of line and traditional elegance.

Perception™ Custom bass, available in four and five string versions, has always been synonymous with the needs of the journeyman bass player, delivering outstanding tone feel and balance. The Perception Custom speaks to the bass players' love of tradition and introduces innovation, featuring the quite outstanding Aguilar® 4SD-D1 pickups and OPB3 active pre-amp, a combination which offers an almost magical range of tones and dynamic ability.
---