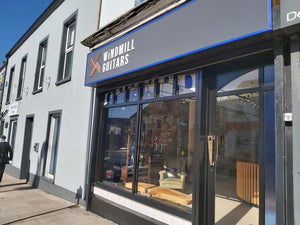 WG's Ultimate Guide To Lockdown
The world has gone into lock down. Toilet roll has become a black market currency and we have now been limited to a shopping basket in Lidl of a tin of beans, an air freshener and only one mig welder.
However .. panic not as this time will pass! Whilst we don't have the cure for Covid_19 .. this handy guide may help you pass the boredom of the coming weeks
Over the next 10-days we'll give you Windmill Guitars top ten tips to surviving the current lockdown.
Day One / Music is good for the soul - play often
As we're all faced to look at the four walls for the next week (or 12!) it's going to be easy to feel a little down - but there's no doubt that playing guitar is good for your soul. 
We're advocating you pick your guitar up for at least 30 minutes every day - tackle learning that new solo, learn the lyrics to that song you love or try and nail the tone of your favourite player. There's no limit to what you could achieve over the coming weeks!
Click the photo below to check out our latest range of guitars and make sure and tag us (@windmillguitars) across social media with your playing progress!
Day Two / Strap in .. we could be here for a while!
It's a terrible product related pun - but hear us out!

It's pretty clear that we're not going to get over this pandemic overnight, but it's important to stay positive, strap in and enjoy this period as a time of creativity, reflection and an opportunity to spend time with those close to us. 
We're pretty partial to a nice guitar strap at WGHQ, something which not only functions well but is comfortable, looks the part and is built to last. Our favourite at the moment is the Heistercamp Catalyst - a beautiful handmade leather strap made in Devon, England. They're remarkably well made and are packed full of features including a cable tidy and locking system for keeping your guitar safe while doing windmills (more on that soon)
We currently have Heistercamp straps in black and tan - available at £39.99 with FREE delivery for the next few days. Click the photo below for more info.
Day Three / Keep it clean!
Whilst we're all in the midst of singing happy birthday twice while we wash our hands, trying to source hand gel like it's some form of illegal product and running round the house looking for that old pair of gloves in the winter ski bag - let's not forget about our beloved axes!
We stock a wide range of guitar maintenance and cleaning products from leading brands such as D'Addario, Lizard Spit and Ernie Ball. We're particularly loving this Lizard Spit VIP - the ideal companion to all guitar finishes but particularly nitrocellulose and more delicate vintage guitars. 
Click the image above to see our full range 
.
Day Four / Give it some love
With more time on your hands we all inevitably play LOTS MORE guitar - it's easy to forget that your guitar (just like all of us) deserves some love at a time like this. Why not spend a little effort in cleaning up those frets, treating that fretboard and doing a fresh restring on your favourite axe.
Need some strings? We're still shipping all of our favourites from Ernie Ball, D'Addario and Elixir for acoustic, electric and bass guitars. Hit the photo below to view the full range.
---