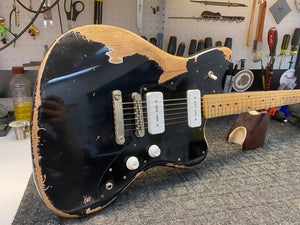 Windmill Guitars appointed as Fano Guitars dealer
In the search for a guitar brand to add to our roster, Fano Guitars where at the top of the list and we're delighted to announce that Windmill Guitars are now an official dealer for this great brand.
When we opened Windmill Guitars we knew we wanted to aim to create a space which featured some of the best brands on the market. Having started as a dealer of preloved guitars - we're no stranger to the "vintage" vibe of all things six-string, and so those familiar shapes of JM's, single cuts and t-style guitars really float our boat.
We'll be stocking Fano's new Omnis range which are due to land with us in May 2020, alongside models from both the Standard and fully custom built Alt de Facto range - starting with these three beauties below all of which will be available to purchase in the next few weeks!
Fano TC6 Standard in Dakota Red
Fano JM6 Builders Choice in Bull Black
Fano SP6 in Ice Blue Metallic
More information and full specs can be found over on our Fano brand page HERE
Windmill Guitars will also be a custom order centre for Fano Guitars in UK/Ireland - providing you with the opportunity to have a Fano built to your own specification of choice. Our team can guide you through all of the options and liaise with the Fano team to build your dream guitar!
Have something in mind already? Drop us a line here or via email to info@windmillguitars.com
#WindmillGuitars
---