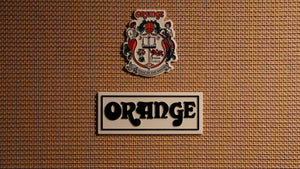 Orange Amplification now available at Windmill Guitars!
We're delighted to announce that we've been appointed as an Orange Amplification Dealer! Bringing top class brands to Windmill Guitars has always been our desire .... and as one of the top amp brands in the world - we're STOKED to bring Orange Amps to WG!
Orange Amplifiers: The Comeback Kids
Orange amplifiers are one of the most renowned amps across the world. If you were to strip the logo off every guitar amp in a music shop, you'd probably find it pretty hard to spot the difference; that is, for all but Orange. The bright colours, quirky science fiction-esque knobs and buttons make it stand out from all other electric guitar amps – and that's before you even plug it in! Orange's history is fascinating, full of rises and falls, but most importantly, the company is still here and still delivering quality and innovative amplification for discerning guitarists.
The Rebirth Of The Orange Amplifier
The Orange amplifier, like Marshall amps, also began in a music store in the 1960s. Cliff Cooper was the founder who opened a music shop and recording studio in semi-derelict premises in London during the summer of '68. From the downbeat start, up and coming guitar legends, particularly Fleetwood Mac's Peter Green, offered lots of gritty feedback about these new Orange amps when they played with the early prototypes at the Orange shop. This early input from cutting edge guitarists is what made Orange amps a thing – and still makes it today.
Cooper took Les Paul's apocryphal advice to heart ("people hear with their eyes") and set out to create an astoundingly eye-catching design that won over the hearts of many players then as now. The amps and cabinets really stood out behind bands like Fleetwood Mac (who took the company's first six or so amps on their American tour). This distinctive tone straight out of the UK scene created such an impact, it quickly drew in other massive artists: who came knocking on the Orange door. Players of the ilk of Jimmy Page, Stevie Wonder and even James Brown.
Orange's mid-range amps also made them popular with Blues-infused rock and roll bands such as Free, Led Zeppelin and Black Sabbath. The popularity of these bands exploded – imitators followed in their footsteps and went straight to Orange the source of that distinctive sound. They were even outselling guitar amp icons Marshall!
But decline set in when the rock guitar bands fell out of favour in the 1980s with Marshall taking up the mantle at the top. Yet Orange survived and soon the likes of Oasis and Travis – keen to recreate the sounds of their youth – came knocking and looking for Orange amplifiers. This saw the return of Orange amps in the UK in a big way – and they're still an impressive name today.
Where Do You Find An Orange Guitar Amp?
Orange guitar amplifiers don't just offer an outlandish, retro style that you can't help but fall in love with; they've got a shed load of electronics packed into tiny packages the watts you need to power any gig. Indeed, this technical skill and inventiveness in the company has helped craft a whole new generation of Orange amps and amp heads. Included in that new generation are the Orange Tiny Terror and Micro Terror. Both of these amp heads, combined with an Orange speaker, can switch between the vintage British clean, characterful crunch sound to full-on overdrive.
The portability and options that the Terror series affords, means that these amps can be used anywhere – from practice at a friend's house to gigging; to studio recording. Despite their diminutive sizes, the Terrors have the same specs as the larger Orange amps. Not only that, they're extremely affordable – especially if you do your shopping at Windmill Guitars! We sell the Orange Micro Terror Guitar Amp and the Orange PPC108 Micro Terror Back Cabinet at knockdown prices – saving you money to contribute to other vital equipment to help achieve the sound of your dreams. Not only that, but we've been appointed as a main dealer of Orange, so you'll also find other amps – such as the Orange Crush 35RT, the Orange Crush CR20 and the Orange Rockerverb 15
For Your Orange Amplifiers, Look No Further Than Windmill Guitars
So if you're looking to brighten up your amp collection or want to emulate the heroes of classic Brit rock, look no further than Windmill Guitars fantastic collection of Orange amplifiers. Windmill Guitars is Northern Irelands' leading independent dedicated guitar shop - THE Guitarists Shop!. To see what we've got in stock, visit www.windmillguitars.com or contact us directly on info@windmillguitars.com / +44(0)2891 225324
---