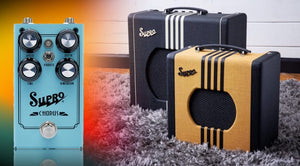 Supro release new Delta King amp range for 2021
Supro has just announced a series of new amps for NAMM 2021, relaunching the Blues King as the Delta King series, and presenting a new analogue Supro Chorus pedal. 
Supro Delta King
At first glance, the three little kings of the Delta may look new, though essentially they are new editions with minor modifications to the Blues King series released back in 2019. In terms of sound, these compact tube combos are fitted with Class A circuitry designed to mimic the tones of amps built in the mid-1950s. As with the Blues King, there are three versions to choose from: The Delta King 8 (1 Watt), Delta King 10 (5 Watts) and Delta King 12 (15 Watts). The numbers behind the names refer to the size of the built-in speakers.
12AX7 and FET boost
Each of the three combos uses 12AX7 tube in the preamp section.
With its 1 Watt power rating, the Delta King 8 could be a secret weapon for uses when you need some authentic tube tone, but need the volume low. The 5-Watt output of the Delta King 10 comes from a 6V6 power amplifier tube, whilst the 15 Watts of the DK12 are supplied by a single 6L6 valve.
The Delta King 8 has three controls (Volume, Tone and Master) as well as a small switch to activate the FET boost, for when you need to juice it a little. The two larger Delta King 10 and Delta King 12 models have an additional Pigtronix FAT high gain mode onboard, plus a 2-band or 3-band EQ, along with a Master volume control and an analogue spring reverb.
Line output & power amp tubes
All three models have a very useful line output, too, which you can use as to a source of pure tube distortion in front of other amplifiers or directly into your DAW. It actually sounds surprisingly good in the demo videos below! The line output is conveniently located in front of the master. The three models are each available in two colour versions, giving you an option of tweed or traditional black styles.
The all new Delta Blues and Supro pedal range is now available for pre-order at Windmill Guitars.
---